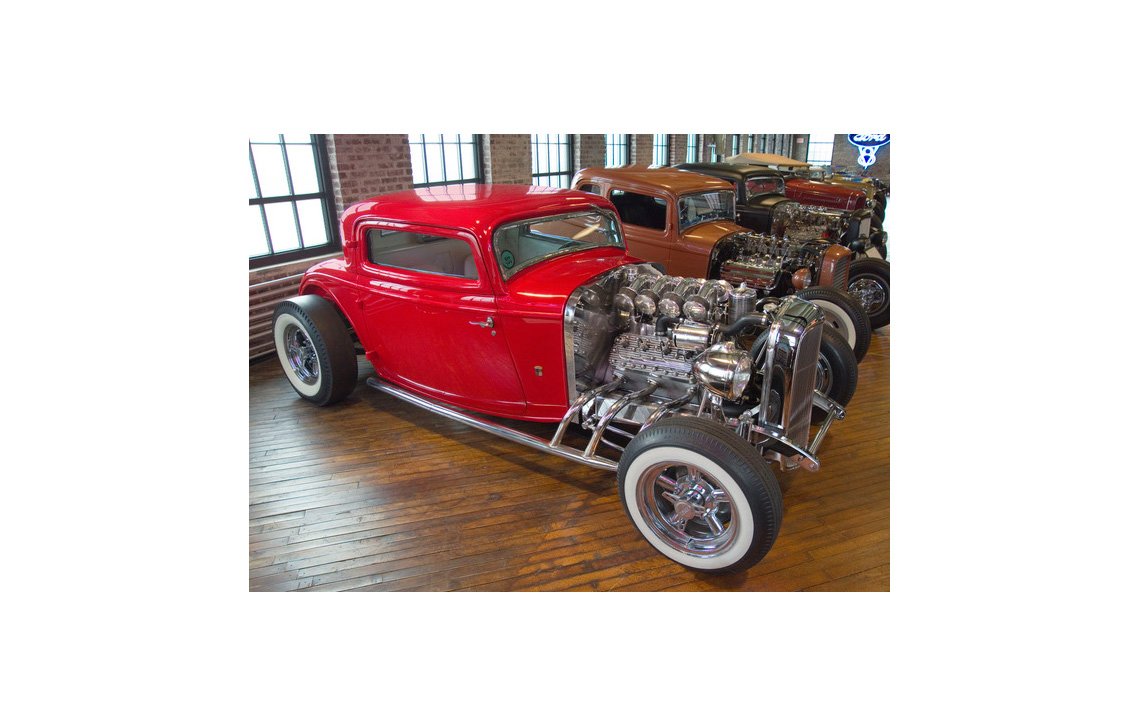 1932 Ford 3-Window Coupe
"Andy Kassa"
Andy Kassa of Passaic, New Jersey, was a young man when he bought this car in 1948. It was a completely stock 1932 Ford 3-Window coupe. In 1953, he began a customizing odyssey that saw the car go through many changes in the next 11 years, when it competed all over the country on the rod-and-custom car show circuit. The first year of its show career saw major modifications, including a 3-inch top chop, a filled steel roof and an engine swap to a full-race 268 cubic-inch 1948 Mercury flathead V-8. It was bored and stroked and used an Offenhauser intake with twin Stromberg 97 carburetors. For the 1954 show season, the car's fenders were gone and the body had been channeled 5 inches over the frame. Now with a 4-carb intake and wild twin-snorkel air cleaners, believed to be Italian-made, the coupe looked nothing like it had the year before. And Kassa continued to give the car a new look every year, with numerous color changes, custom headers and, in 1964, a new custom nose and vertical "cyclops" headlight treatment that was created for the car by George Barris, the "King of the Kustomizers" in California. After 1964, the car was retired from the show circuit and was stored in Andy's garage for more than 20 years, before a multi-year restoration was begun by his car-buddy friends. He saw the car finished, but he passed away in 1998. In 2001, the coupe was part of an invitation-only hot rod class at Pebble Beach, fittingly, the car show of all car shows.
1932 Ford Andy Kassa custom nose by George Barris
For the 1964 hot rod-and-custom show car season, Andy Kassa's '32 Ford 3-Window coupe appeared with this new, one-off radiator grille surround with a single vertical headlight. The unit was designed, crafted and installed by George Barris, the "King of the Kustomizers" of Hollywood, California. Except for the use of a single headlight, which earned the car the name "Cyclops Coupe," the design was similar to a few other hot rod grille treatments seen in the early 1960s, including Barris' own creation, the Ala Kart, and the Alexander Brothers' Little Deuce Coupe.